Washington County is showing strong signs of confidence in the economy, particularly in the retail and industrial sectors.
The office market remained sluggish 2011 with most of the activity in the form of tenants taking advantage of the low lease rates and moving up to higher-quality space.
Office Market 2011 End-Year Overview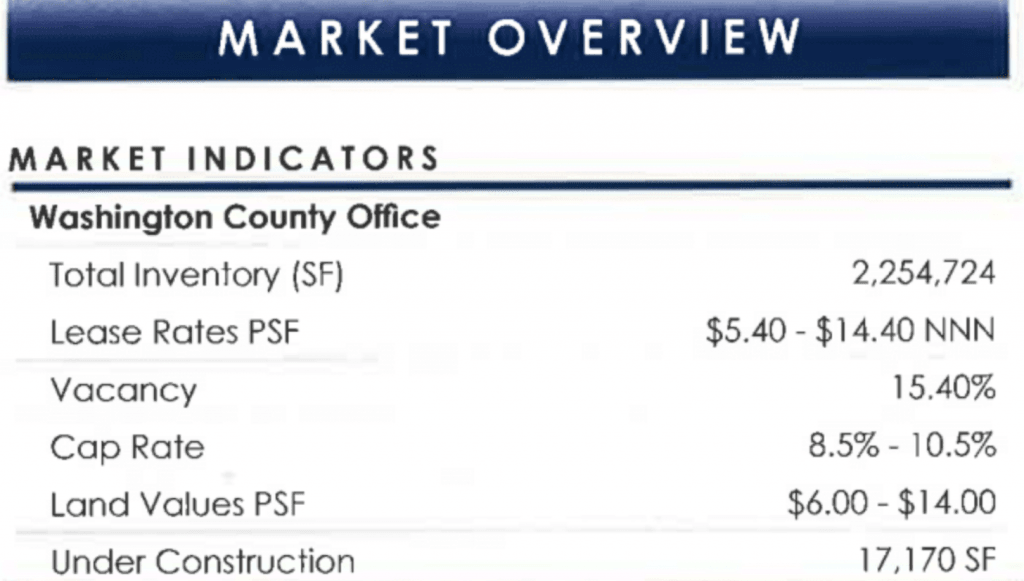 Office Market 2011 End Year Review
The office market relatively flat though in 2011.
Mid-year vacancy rose from 15.2% to 15.5% and then dropped to 15.4 by year-end. The flight to quality space continues as tenants migrate from Class C to B space and from Class B to A space.
This growing vacancy in Class C contributed to significant price declines in this class, bringing down the mean asking lease rate from $9.38 per square foot (sf) at midair to $7.92 per sf. Class A asking lease rates, for the most part, remained unchanged.
St. George remained the center of activity for the county with the Central Business District and comparatively higher lease rates.
The outlying areas are struggling to attract and retain tenants In 2011, much like the previous two years, there were few first-generation space leases.
This is the result of ample second-generation space available on the market and the gap that exists between current asking lease rates and a landlord's ability to profitably build out and lease first generation space.
Retail Market 2011 End-Year Overview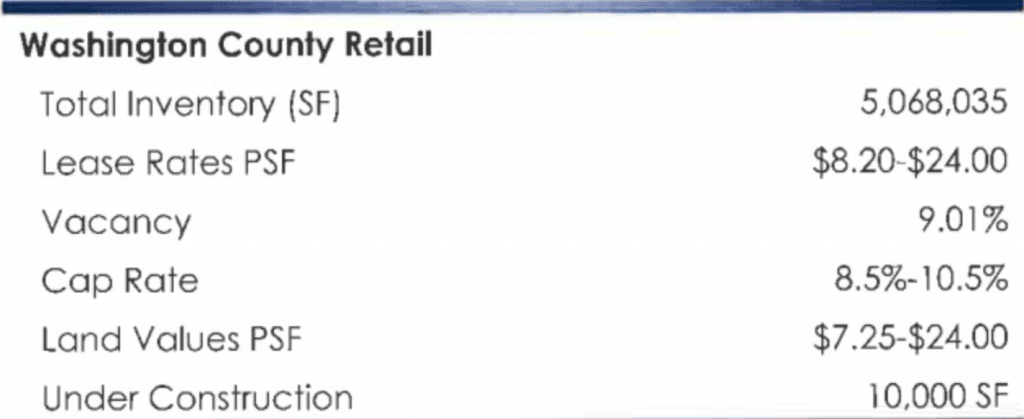 Retail Market 2011 End Year Review
Retail is one of the brightest spots in the Washington county commercial real estate market. This sector enjoyed solid positive absorption starting the year at 11.7%, falling to 10.6% mid-year and down to 9.01% by year-end.
This 4.47% absorption rate included the addition of 104,000sf this quarter of the eventual 137,000sf at the Red Rock Commons.
The large variance in lease rates is indicative of the flight to a quality trend where Class A space is leasing as high as $31 per sf down to $6 sf for less desirable space.
The I-15 corridor from St. George to Washington City continues to be the price retail location, attracting national stores and restaurants.
Red Rock Commons leased space in the past year to Dick's Sporting Goods, Petsmart, Ulta, Old Navy, Gap Outlet, and Chick-fil-A
One trend to note: if absorption continues at the same pace as 2011, or 226,525sf per year, with no additional vacant space, added the Washington market will be out of retail space in 2 years.
Industrial Market 2011 End-Year Overview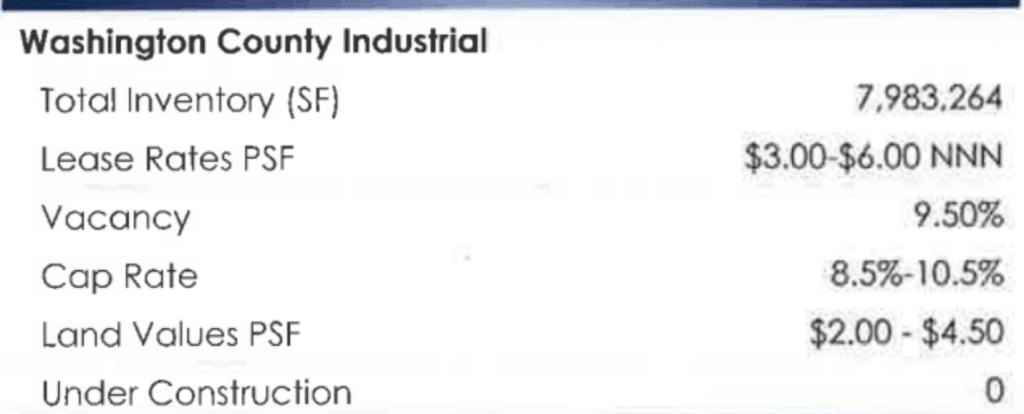 Industrial Market 2011 End Year Review
The industrial sector with Washington County continues to enjoy success.
The absorption rate in 2011 climbed to 5.29% with the small blocks of space, under 10,00sf contributing significantly to this rate during eh second half of 2011, along with the lease of 59,000sf warehouse in St. George.
Local contractors and small manufacturing companies are finding some success in the marketplace.
The high-quality product in this size is nearly all leased within St. George proper and is starting to push absorption up in the surrounding industrial parks.
Large block space, over 50,000sf comprises approximately 290,000sf of available space with only one available above 60,000 contiguous sf.
One or two large leases or purchases will further tighten the market for these properties.
Only one significant building was newly constructed this year for an owner occupant, Cox Trucking, which relocated to a 30,000sf facility in Ft. Pierce.
As with the retail space, if absorption continues at the same pace as 2011, the industrial market will be out of product in a little under 2 years.
2011 End-Year Market Forecast
Bearing a bump in the road in the national economy the first half of 2012, expect positive momentum created this past year to continue forward in 2012. Washington county will continue to be a strong pocket market showing resilience in comparison to some of the regional counterparts. Class a space across the sectors will continue to outpaces Class B and Class C counterparts in both absorption and leading lease rates.
With the office market near or at the bottom in 2011, expect to see vacancy decreasing moderately throughout 2012. Medical office continues to be the strongest category of the office and the trend is expected to continue.
The retail sector will continue to see solid positive absorption through 2012. As a scarcity of prime retail space increases, expect new major retail projects to be announced. Also, anticipate to see lease rates to rise with anchored centers as a prime beneficiaries.
The residential market in the county continues its recovery, adding additional rooftops to be served.
Industrial will play out much the same as the retail market.
Positive absorption, lead rising lease rates, and some speculative construction will be the topic of 2012.
Anticipated further absorption of the large blocks space over 50,000 ft.² will bring the increase in inquiries from large national tenants bringing some billed to switch projects in 2012.
If you have specific questions or are looking to buy, sell or lease commercial real estate, call us or check out our new website at linxcre.com.
Travis Parry, SIOR, CCIM
Partner – LINX Commercial Real Estate

Travis@linxcre.com
435-359-4901