Washington County continues to show solid signs of growth in manufacturing and distribution-related industries.
Unemployment is hovering around 3.2-3.3%, mostly flat year over year. The local unemployment rate is well below the national average of 4.4%.
The low unemployment rate reflects well on the quality of the local workforce but has also caused increased competition for employers to attract and retain employees.
Viracon's recent announcement to close their 230,000 sf St.George facility could cause unemployment to creep back up over the next 12 months.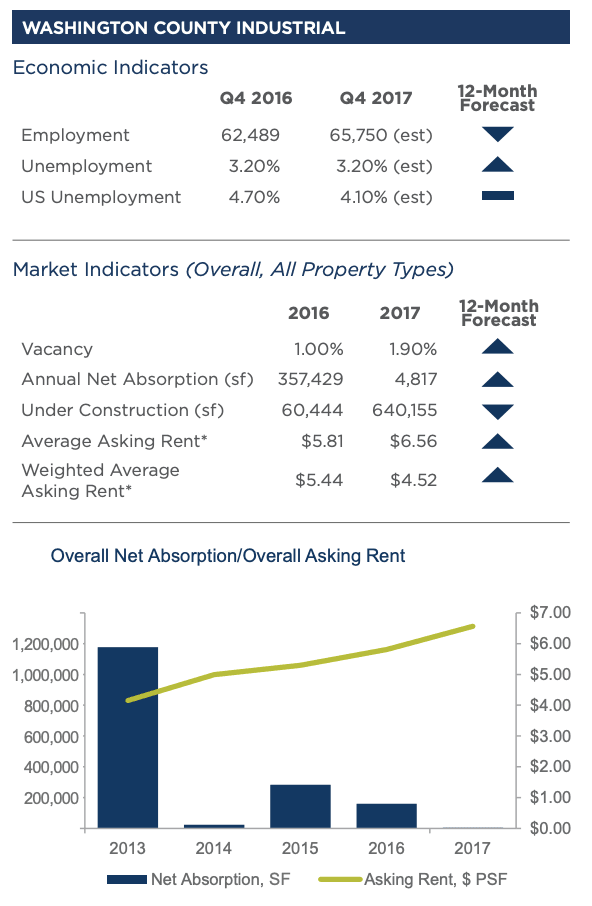 Industrial Market Overview 2017
The industrial market continues to lead the commercial sectors in Washington County. Vacancy bumped up a notch to 1.9% due solely to the recent vacancy of an older sleeping bag factory.
With this property excluded, the market vacancy would be at just 0.63%, a nearly ½ point vacancy reduction year over year. Notwithstanding the increased vacancy, net absorption was still positive for the year thanks to full occupancy on all new construction added during the year and increased absorption in existing lease space.
Asking net rents also increased by 12.9% to an average of $6.56sf. Weighted average asking net rents dipped as an anomaly due to the low asking lease rate and large size of the former sleeping bag factory and skewed the numbers.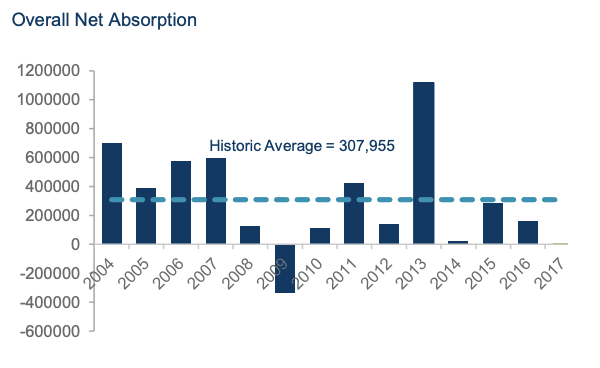 New construction became the darling of the market with a ten-fold increase year over year. Over 640,155 sf went under construction in 2017, nearly double the historical average of 348,000 and almost triple the square footage added over the last three years combined.
Over the last 15 years, only four years registered higher new construction than 2017. Much of the new supply is an expansion for existing companies
including:
180,000sf addition for Litehouse Foods in Gateway
100,000sf for Warner Enterprises in Ft. Pierce
71,000sf for Ram Company
24,000sf for Dixie Components
15,000sf for Wilson Electronics/weBoost in the Millcreek Industrial Park.
Over 89,000 sf of construction was completed in 2017 including the 20,000sf
OSDI batch plant in Fairgrounds and the 14,000 sf Holbrook Asphalt building in Ft. Pierce.
New entrants under construction include the 31,098sf Sprayforce building in Gateway and the 9,375sf Ellis Island Brewery in Ft. Pierce
For the first time in nearly 10 years, a large spec industrial project went underway with Beehive Industrial commencing construction on 151,000sf of warehouse/distribution space in the Ft. Pierce Industrial Park.
Travis Parry with LINX Commercial Real Estate preleased 80,000sf prior to construction commencement to Czarnowski Display Services, who expanded their presence in the market with an additional 80,000sf.
This represented the largest new construction lease in over 10 years in the market.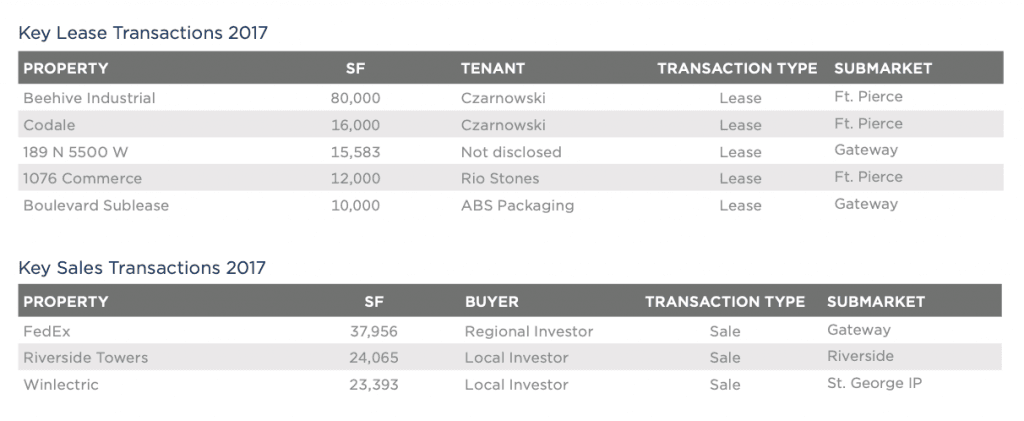 Industrial Market Outlook 2017
Nationwide, industrial activity increased 10% while other commercial sectors showed signs of maturing cycles in we expect industrial to follow that trend locally with additional new construction being added to the market at a slightly higher pace than the historical average.
Several national players are considering relocating from other markets or adding additional locations in Washington County.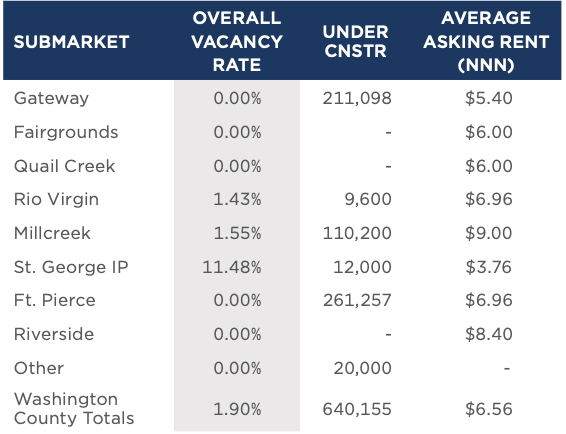 Increasing construction costs will continue to create upward pressure on lease rates. It will also keep special new construction limited to smaller industrial spaces with metal construction being the material of choice for smaller buildings thanks to cost-savings over concrete tile or masonry.
We expect lease rates to climb 5-10%. Viracon just announced the closing of their 230,000 sf St. George glass plant in March 2018 which could cause a 2.5% spike in vacancy in the near term. Assuming this gets absorbed in the next year, we expect the overall market vacancy to remain under 3%.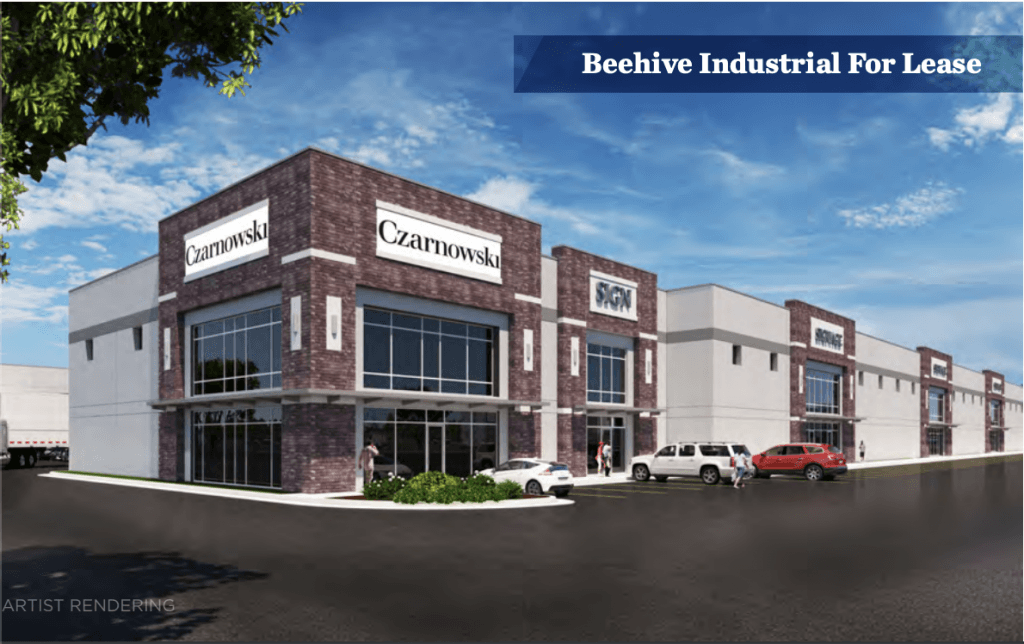 Office Market Overview 2017
Washington County continues to show solid population growth leading to an increased demand for medical and professional services, which are the primary occupiers of office space in this market.
There has also been organic growth in the technology sector in 2017 that is adding to that demand for office space.
Local tech companies have shown remarkable growth this year, although historically it has been a challenge to keep growing tech companies her once they reach a certain size and face pressures to move to a larger talent pool.
Unemployment is hovering around 3.2-3.3%, mostly flat year over year. The local the unemployment rate is well below the national average of 4.4%.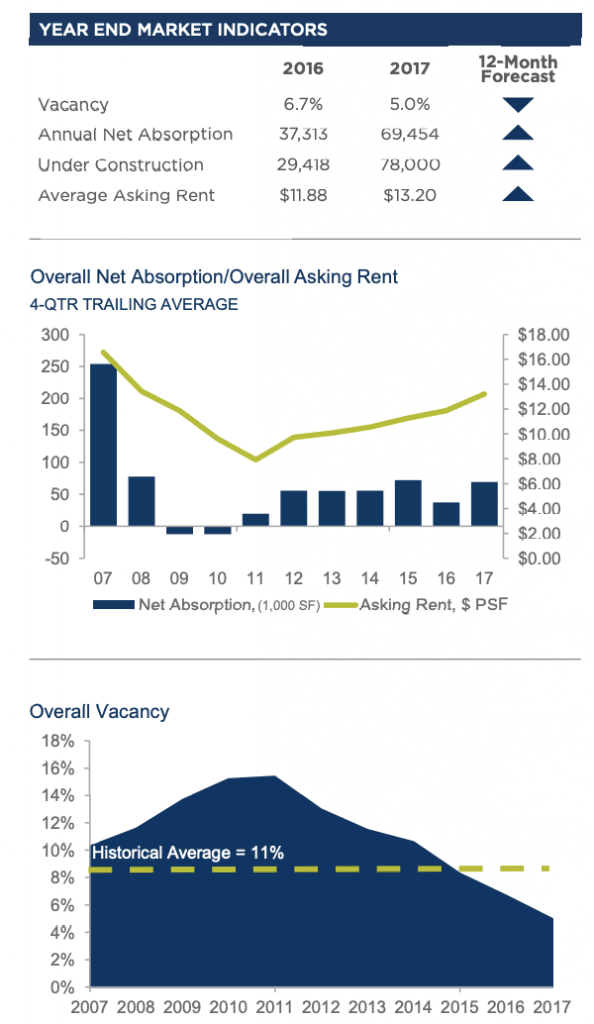 Vacancy dropped 1.7% to 5.0% in 2017
Asking lease rates increased 11% from the end of the year 2016
The market absorbed 69,454 SF of office space in 2017
The Washington County office market continued to improve in 2017. Vacancy fell to 5.0%, which is the lowest office vacancy rate in the past 10 years.
Average asking lease rates jumped up to $13.20 sf NNN, which represents an 11% increase from year-end 2016. The prolonged recovery and shrinking vacancy have caused a lack of viable spaces on the market for sale or lease.
This is true, particularly in the Class A sector. And these factors are putting upward pressure on rates on prices as buyers and tenants compete for the best spaces in the market.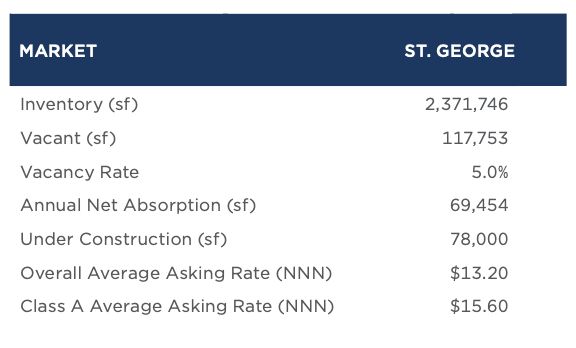 New office construction gained momentum in 2017. Dixie Power completed two buildings adding 29,000sf to the market. Construction is well underway on a 57,000sf tilt-up concrete medical office building at Riverfront
Medical Center.
Cushman & Wakefield represented the development group in the land acquisition and in the leasing on Riverfront. This is the largest private medical office building ever developed in Washington County and is the first building in a multi-building medical campus.

A 21,000sf office building is under construction on South River Road with Stevens-Henegar as the anchor tenant.
Another 70,000-100,000sf of office space is currently in the planning phase.
Investment activity in the office sector has cooled off a bit in 2017 but is still fairly active. Investment activity has been limited only by a lack of investment-grade buildings and tenants, as investor demand remains high.
Office Market Outlook 2017
We expect the improving trend to accelerate through 2018 with vacancy decreasing and lease rates improving further. Lease rates are expected to increase by another 10-15% over the next 12 months.


Retail Market Overview 2017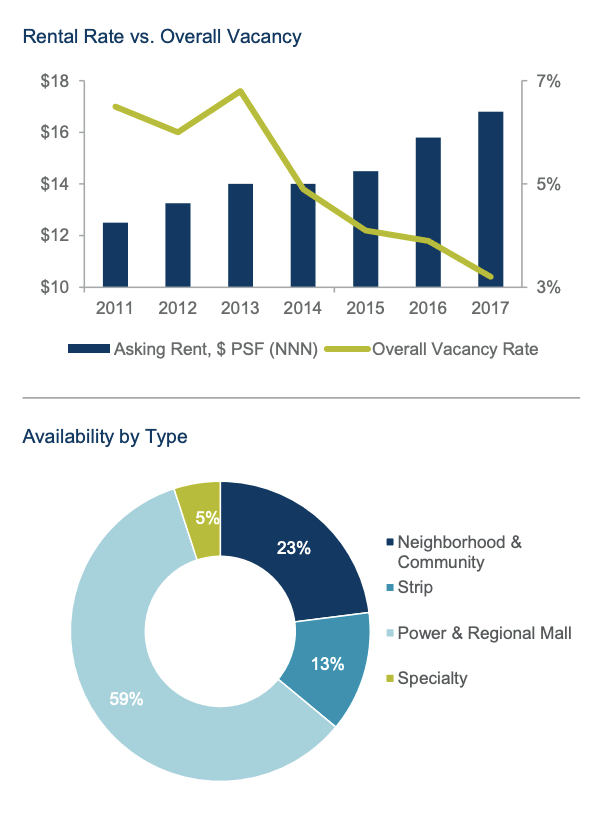 The overall economy in Southern Utah continues to strengthen, giving numerous companies a record year.
We have experienced a major increase in wages, however, the increasing costs of goods and services such as housing, food, transportation, health insurance, etc., seem to be outpacing the gain.
Retailers and restaurants in Southern Utah are still dependent on tourists to remain profitable. Retail lease rates are increasing, and we expect that to continue through at least the next year.
Several larger spaces went dark in 2017, causing the vacancy rate to increase for the first time in the last four years. E-commerce continues to rattle the retail market–particularly the mid to large box retailers—and, we expect that to continue.
Hotels, grocery-anchored retail, and existing space under 5,000 square feet realized significant growth and that will continue.
New retail buildings have been popping up all across Southern Utah, including:
Smith's Marketplace
The second Tagg-N-Go location on River Road
Nielson RV Dealership
Starbucks on Telegraph and Green Springs Drive
Tropical Smoothie on Sunset Blvd
Four Seasons Auto
Popeye's on South River Road
Café Rio in Santa Clara
Mountain America on the corner of Mall Drive and 3000 E
Café Sabor on St. George Blvd.
There are several retail projects currently under construction or in various planning stages including:
The City View mixed-use project downtown
Grapevine Crossing Retail/Entertainment Center at Exit 13 in Washington
Desert Color off Exit 2 in St. George, and numerous restaurants and neighborhood service companies around the new grocery-anchored centers.
There are numerous hotels at various construction and planning stages, including the Hampton Inn near Sun River and the Staybridge Suites, Tru, and MyPlace hotels near the Dixie Convention Center.
Big Shots and Terrible Herbst have both announced locations coming off Exit 2.

Retail Market Outlook 2017
We expect retail to remain strong through 2018. Grocery anchored retail, restaurants, smaller spaces, and hotels will continue to experience the most growth.
We expect that the vacancy will drop a bit, with lease rates continuing to increase.
Travis Parry, SIOR, CCIM
Partner – LINX Commercial Real Estate

Travis@linxcre.com
435-359-4901