2014 was a busy year! Southern Utah continues to draw tourists, visitors, residents, and companies with its unsurpassed quality of life!
St George is known for its warm climate and outdoor recreation. Washington County's commercial real estate activity is steadily climbing through 2014.
Office space, industrial market, and retail store vacancy rates are continuing to decrease steadily through out the year.
2014 End of Year Market Trends
Office Market 2014 Year End Review
Vacancy rate is now at a 10.6%, last year it was at 11.5%
Increase in average lease rate per square feet from $.45-$1.25 to now $.50 to $1.33psf
Total square foot available is 2.3 Million
20,000 feet currently under construction

During the first half of 2014, the office market showed signs of marked improvement.
The second half of the year there was a small delay, if not an abrupt halt, to the study improvement that we have seen in the recent past.
Overall, the year 2014 turned out to be very similar to those past in 2012 and 2013. Although at the mid year mark, there were key indicators pointed too much higher trajectory for the market.
During the first six months of the year the market had absorbed 57,492 ft.² of the kids face. This exceeded the absorption rate for the entire year of 2013. During the second half of 2014 the market posted 1904 ft.² of negative absorption, bringing the year total down to 55,588 ft.².
In addition the conversion of two former bank buildings two office spaces and completion of the new focus Eye Center building on River Road and it nearly 29,000 ft.² to the total inventory and is roughly equal to the 1.2 percentage point increase of the vacancy rate, which is up to 10.6% from the 9.4 at midyear, but is still down from 11.5 a year ago.
Original asking lease rates made some gains ending the year up 4.5 on the year over year basis.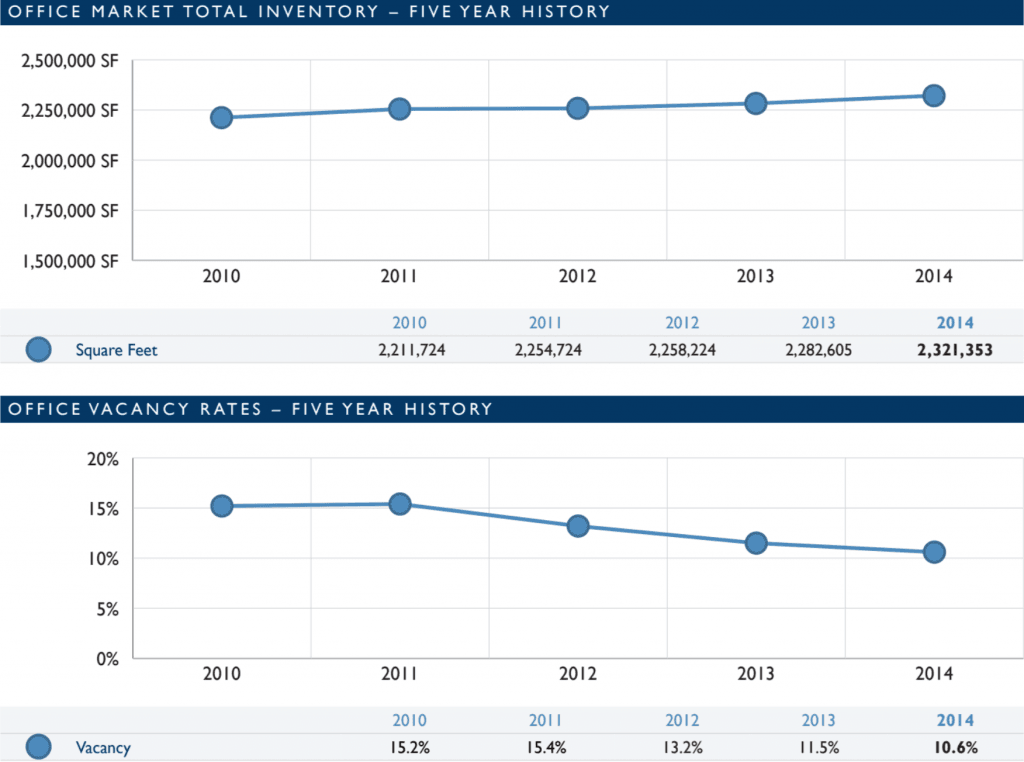 It is clear that office space vacancies are going to continue to decline as more businesses are brought to Saint George.
Retail Market 2014 Year End Review
During 2014 the real estate market showed improvement with a vacancy rates dropping by 2.2 PPS over a year over year basis to end at 5.3PPS
Also during 2014 the average asking rent increased.
Retail space increased from $1psf to $2psf
Vacancy rates at 5.3%

New constructions have been completed during 2014 including the Culvers on River Road, two new power sports facilities for Moto zoo, a new Maverick and a Jiffy Lube on River Road.
Fiesta fun entertainment center is currently expanding with a brand new 40,000 square-foot building under construction and it is due for completion quarter one 2015.
With all of this new construction, retail spaces have increased from $1 per square foot to $2 per square foot.
It appears that neighborhoods are not being ignored with this new commercial sector increase. Next year will be a very busy year as Associated Foods (Lins Grocery) and the Smiths have both committed to new sites on the east side of Saint George. This will serve as the Washington fields and Washington area.
Walmart is also looking at several different sites in Saint George for a new neighborhood center.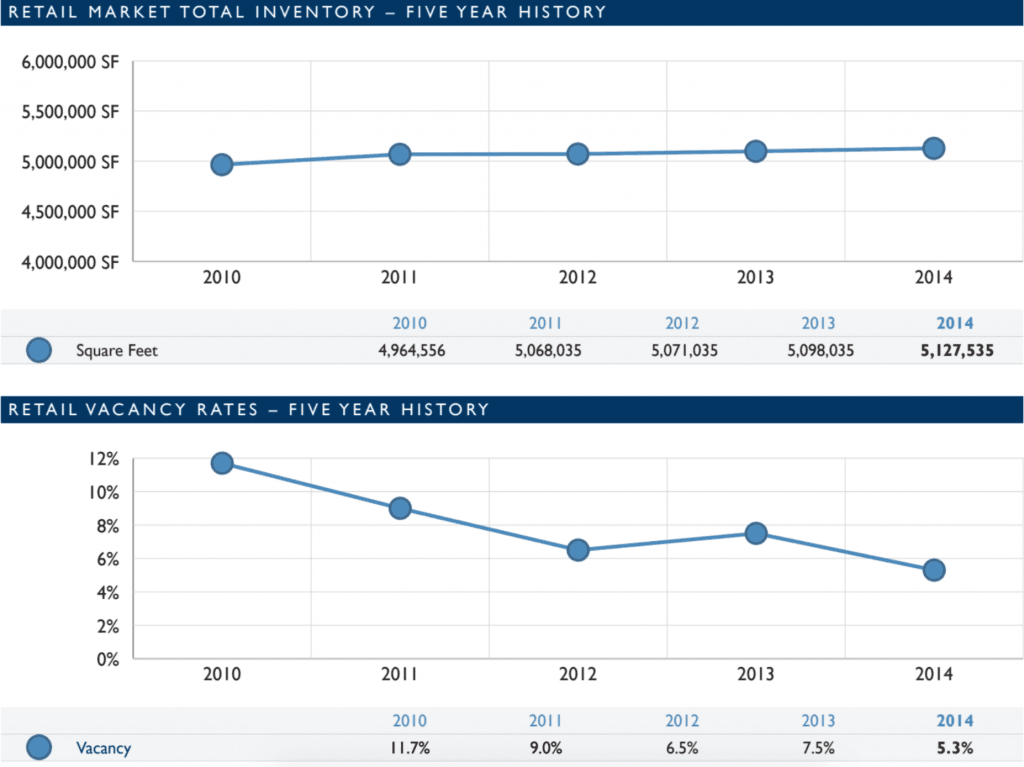 Red Red Commons is now at 100% capacity with Charming Charlie's, Café Rio, and Sport Clips.
Vacancy rates continue to decrease to a five year low of 5.3%.
Industrial Market 2014 Year End Review
The average rental increase nearly 30%
Land values held steady at $2.5-$4
79,493sf under constructions compared to 2,500sf in 2013

Washington county strongest sector continues to be the industrial market, although the second half of the year slightly cold.
One of the biggest adjustments of the year is blue bunny close their production plant adding nearly 150,000 ft.² of available space to southern Utah. The single vacancy represents nearly 35% of the vacant space in Washington County. If a blue bunny did not vacate their factory, the vacancy rate would have been below 3%.
Another company that announced a re-opening other 300,000 square-foot facility starting order one of 2015 is Viracon.
Industrial brush also completed their new 52,000 square-foot facility and forth price.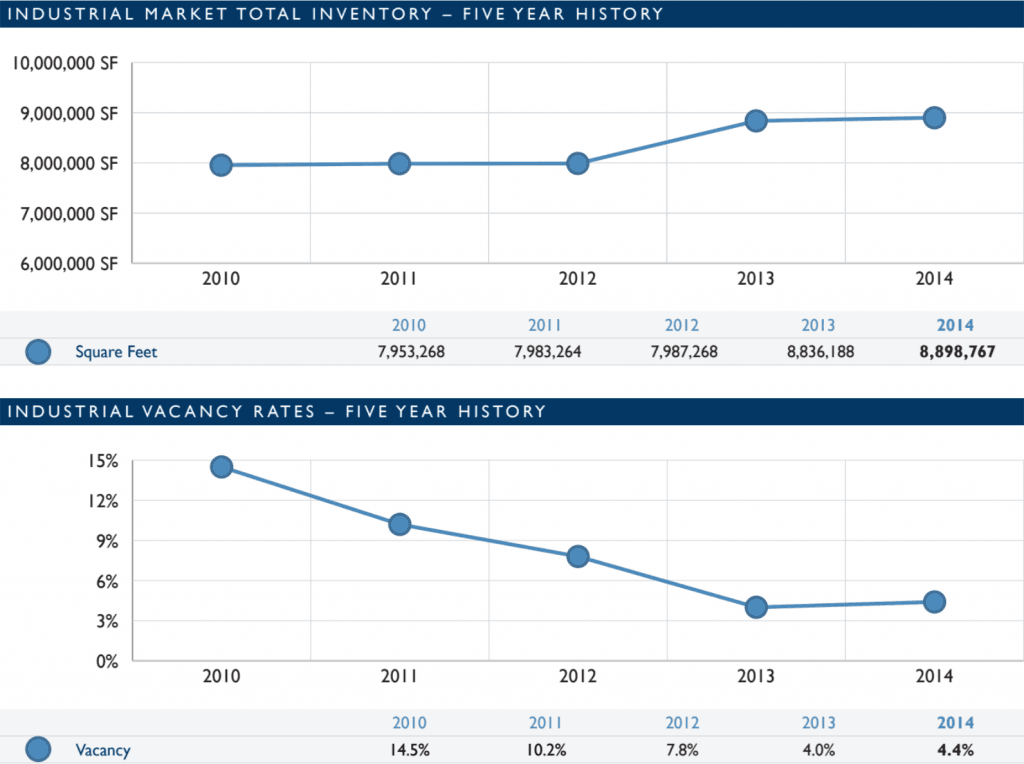 The space market continues to tighten and push the lease rates upward. The average rental increase nearly 30%, but still has a way to go in order to match the break even lease rates with cost of construction. 
This cost is limited by the amount of new construction is for both owners or users and speculative developers.
Southern Utah Market Forecast
We are expecting and improved trend to resume a 2015 and at a rate comparable to 2014 with a vacancy decreases and lease rates improving further.
Average asking rate should increase by 5 to 10% more by the end of 2015 in retail and office.
Asking lease rates should increase by an average of 20% in the industrial sector.
Investment sales will increase substantially for 2015 as investors from outside areas continue to find opportunities for quality asset purchases in Washington County.
Travis Parry, SIOR, CCIM
Partner – LINX Commercial Real Estate