The Washington County commercial market showed solid signs of improvement with the industrial sector being the most active.
The office sector improved slightly while the retail sector was mixed with some mid-box vacancies but also attracted new high-profile retailers to the market.
The quality of life and warmer climate continued to draw people to Southern Utah providing new commercial development opportunities.
2013 End of Year Market Trends
Office Market 2013 Year End Review

The vacancy rate is at 11.5%
Asking lease rate improved by 3.7%
There is currently no office buildings under construction
The office market continued to show moderate improvement.
The overall vacancy rate continued to improve over the past several years with a decrease of 1.7 percentage points (pps) in 2013 to end at 11.5%.
Average asking lease rates on a triple-net (NNN) basis improved by 3.7% to $0.84 per square foot, per month (psf/mo).
Positive absorption occurred across all property classes and totaled 57,000 square foot (sf).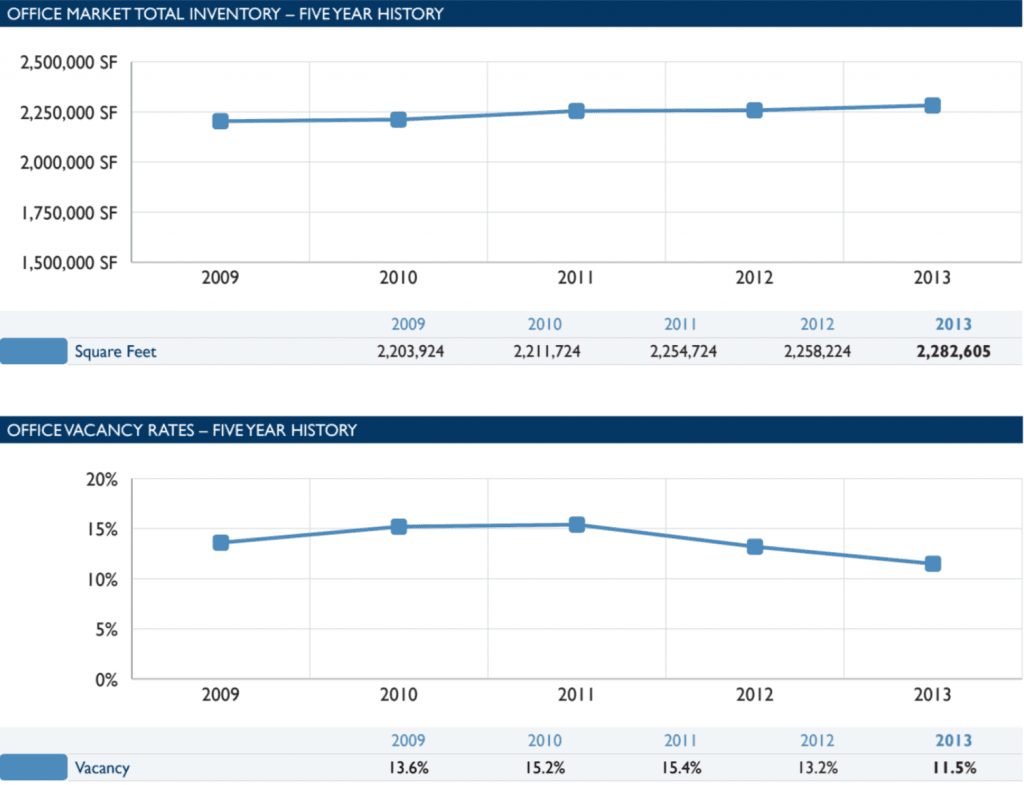 New construction remained constrained with only 24,000 sf of new space added. With positive net absorption, decreasing vacancy, and improvements to average asking lease rates, the market continues to show positive recovery signs.
Industrial Market 2013 Year End Review

The vacancy rate has dropped to 4%
Extremely limited space over 50,000sf
Increase demand in industrial land
The industrial market continued its strong recovery with the vacancy rate dropping by 3.8 pps to end at 4.0%.
While the majority of the absorption occurred in the first half of the year, activity was solid throughout the entire year.
Major transactions included the new 817,000 sf Family Dollar distribution facility in Ft. Pierce Industrial Park, KPI Concepts' purchase of the 85,000 sf former Mikohn Gaming building in the Gateway Industrial Park, and the George Fern Exhibit and Display's lease of 55,000 sf in the Millcreek Industrial area.
Available product over 50,000 sf in Washington County is essentially non-existent.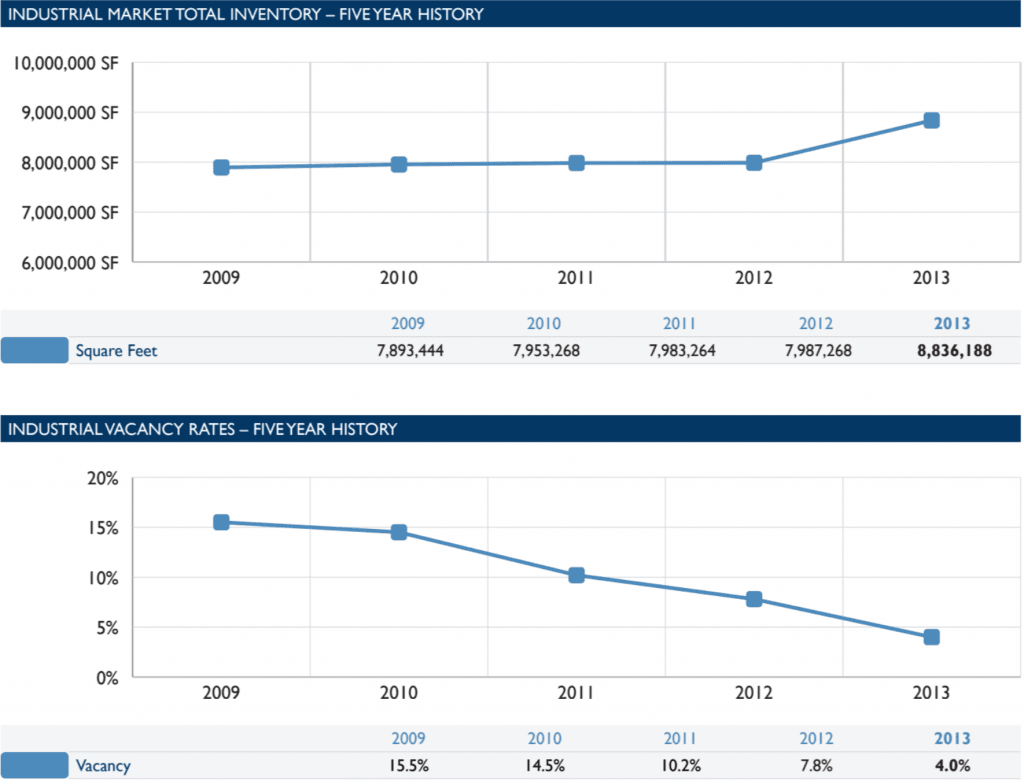 There has been an increase in demand for industrial land which is expected to continue through 2014.
Retail Market 2013 Year End Review

Vacancy rate is 7.5%
Multiple new food establishments opening up soon
Red Rock Commons nearly full
The retail market was hit with several significant tenants giving backspace.
This included the Albertsons on Bluff Street as well as several mid-box tenants including Office Max, Big Lots and Robert Crafts. Despite these tenants pulling back or out of the market, the overall vacancy rate only increased by 1.0 pp and remains relatively strong at 7.5%.
2014 will see additional space come available as the Staples on Bluff Street is also expected to vacate some time during the first half of 2014.
New entrants in 2013 included Chick-fil-A, The Habit, Freddy's Frozen Custard and Steakburgers, and Firehouse Subs.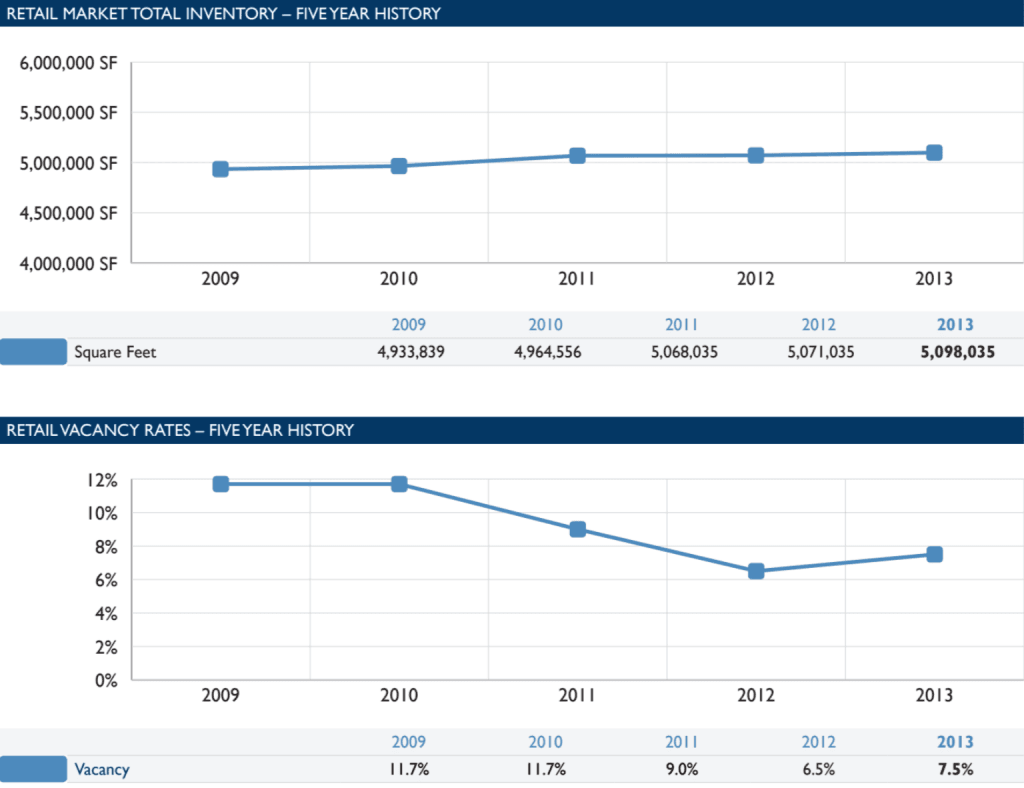 Anchored Class A retail continues to outperform all other property classes and types with high demand yielding high rents and very little vacancy.
Red Rock Commons is nearly full, adding Café Rio and Einstein Bagels to the site.
Southern Utah Market Forecast
Industrial construction is expected to ramp up in 2014 as the supply of available space is significantly limited, especially for larger blocks of space.
Lease rates will continue to rise until new construction meets that demand. Retail should backfill most of the available mid-box spaces.
New grocers are expected to enter or expand in the market securing neighborhood sites near the residential growth areas.
The improving trend in office will continue throughout 2014, with vacancy decreasing and lease rates improving.
Overall, the Washington County commercial real estate market will experience solid growth in 2014.
If you have specific questions or are looking to buy, sell or lease commercial real estate, call us or check out our new website at linxcre.com.
Travis Parry, SIOR, CCIM
Partner – LINX Commercial Real Estate