The St. George commercial real estate market explored the depths this year and started making its way back up.
The first half of 2010 appears to be bumping along the bottom. Since mid-year, however, the market has come off the bottom in most sectors and shown signs of strengthening.
Developers have lost their appetite for constructing speculative properties, with the limited new construction aimed at known tenants.
This trend is expected to continue throughout 2011 as existing inventory is steadily absorbed.
Office Market 2010 End Year Review

The main asking lease rate is down significantly from $.83 per square foot NNN at mid year 2010 to $.80 per square foot NNN at year end 2010
Construction remains at a near standstill with only 10,000 ft.² under construction
Strong tenants are moving from Class C to B and from B to A
Shorter lease terms are more popular due to Landlord's concerns with the lease market and tenant uncertainty with the economy
The office sector does not appear to have hit bottom yet.
Vacancies rose from 14.2% at mid year to 15.2% at the end of 2010.
The asking lease rate has continued to experience downward pressure. The rate of decline has slowed from the first of the year but has not turned the corner yet.
Low rates continue to fuel a migration of quality tenants from class B and class C buildings to Class A space.
Landlords are offering incentives such as low and free rent and some tenant improvements, but overall they are very careful with their cash and are often opting to sign short term agreement instead.
The number one factor that weighed in on the office market was the unemployment rate, which increases in the most recent report and continues to affect these sectors ability to recover.
Most transactions in the investment sector were purchases of Cash flow properties.
Investors wanted projects with an immediate return, and we're not interested in a buy and hold opportunities.
The search of the focus has centered on bank-owned properties and at those prices at a discount, yielding significant cash on cash return.
Industrial 2010 End Year Review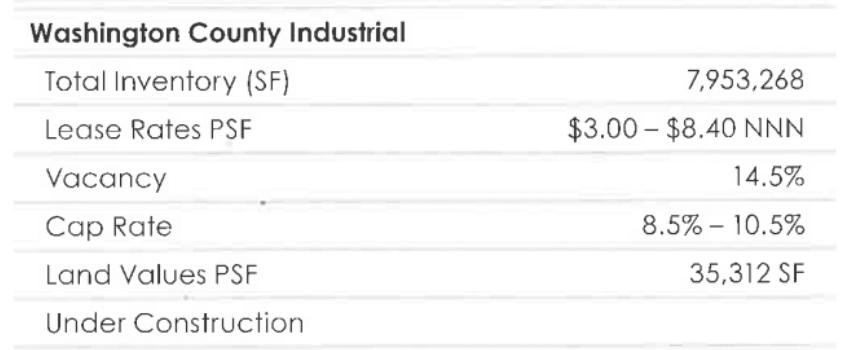 The Washington county vacancy rate dropped by 1.5% during the last two quarters
National companies are starting to move on lower price inventory with groups like Lighthouse Foods purchasing 88,000 ft.²
Additional large purchases are expected to close in the first quarter of 2011
Lease rates seem to have slowed their dissent with the low hovering at $3
Leasing activity should see continued improvement through 2011 as a result of lower lease rates
The year 2010 ended with positive absorption of the industrial sector and it feels like we may have finally have turned the corner.
The federal government made SBA Loans extremely attractive, which resulted in a quadrupling of this type of financing in 2010 versus 2009.
The blended vacancy rate belt from 16% at mid year to 14.5%, which is very encouraging.
Several significant deals were announced during the year.
Lighthouse food secured property on which they will build a new facility that will bring over 150 jobs to the county.
In December, Czarnowski Display services, a Chicago-based exhibit and event group, announced it will invest over 6.5 million to develop a new production facility in St. George. The facility will employ 50 new full-time staff as well as 25 to 40 temporary seasonal employees. They have under contract a 95,000 square-foot building in the fort pierce industrial park, making it one of the largest industrial deals in the Washington County done in over three years.
The multi-tenant space did a little better in 2010, although lease rates did not gain any ground.
Cash strapped landlords are unable to offer any tenant improvement, settling on shorter-term agreement instead.
There was an increase in bank owned property offerings, which has added pressure on both pricing and lease rates.
As a result of these conditions, asset appraisal continues to come in lower helping the market to reset at a faster rate.
Retail Market 2010 End Year Review

Retail vacancies hit bottom this year and have now started to improve.
At midyear, the vacancy rate hit 12.84%. By the end of 2010, it had dropped to 11.67%, which is near the same in the 2009 year end.
While there is no speculative development in retail, there was a limited amount of new construction.
The Red Rock Commons project will take the place of the settlers RV park on River Road, just on St. George Boulevard.
Two major tenants agreements for Dick's Sporting Goods and Petsmart already under place with others expected to follow.
McDonald's and chase banks are also completing new locations on Telegraph Street in Washington.
Washington County Forecast
The Washington County retail market has continued to recover with the overall vacancy rates declining by over 1% point in the past six months to 11.67%.
Anchor tenant properties continue to perform anchored list properties, enjoying both significantly higher lease rates and substantially lower vacancy rates.
During the latter half of 2010, new construction of nearly 100,000 ft.² of anchored Retail space at Red Rock Commons began.
National tenants have experienced a renewed interest in the Washington County retail market.
This is expected to continue as the overall economy strengthens statewide and throughout the nation.
Travis Parry, SIOR, CCIM
Partner – LINX Commercial Real Estate

Travis@linxcre.com
435-359-4901